Schedule:
Date: 10 & 11 June 2022
Time: 09.30 AM (Dhaka)
Training outline:
Incoterms, H.S Code,  Insurance and LC have great impact on International Business for . If we do not have much knowledge on these aspects, we can not manage International Business rightly.
Incoterms are published by ICC(International Chamber of Commerce). Whole worlds goods are   transported by 2020 version Incoterms.  Incoterms® are the selling terms that the buyer and seller of goods both agrees to. The Incoterm® clearly states which tasks, costs and risks are associated with the buyer and the seller. The Incoterm® is agreed between the buyer and seller and states when the seller's costs and risks are then transferred onto the buyers. They are accepted by governments and legal authorities around the world.
The Harmonized Commodity Description and Coding System generally referred to as "Harmonized System" or simply "HS" is a multipurpose international product nomenclature developed by the World Customs Organization (WCO) based in Brussels.
It comprises more than 5,000 commodity groups; each identified by a six digit code, arranged in a legal and logical structure and is supported by well-defined rules to achieve uniform classification.
The system is used by more than 200 countries and economies as a basis for their Customs tariffs and for the collection of international trade statistics. Over 98 % of the merchandise in international trade is classified in terms of the HS.
The HS contributes to the harmonization of Customs and trade procedures, and the non-documentary trade data interchange in connection with such procedures, thus reducing the costs related to international trade.
Insurance Management is critical management of a company. Through proper insurance risk coverage
we can minimize losses of our business.
Incoterms, H.S Code,  Insurance and LC Management in International Business is designed and articulated to sharpen participant's knowledge and skills in doing and handling  Export –Import business efficiently and successfully.LC is opened around the world under the latest  rules of UCP/UCPDC .  Step by step process and procedures have been described as participants can gather knowledge easily and implement the training result in the real life business. This course is planned such a way that within a short period of time the participants can sharpen their knowledge in L/C mechanism to do  International Business successfully. Precipitants will be truly benefited just walk away from the training room.
In international business major and safest mode of payment is L/C. For importing, we need to open the import L/C. For export you need to receive Export L/C for successful business deal. L/C has certain rules and procedure to manage. As per Bangladesh Import policy importer must open the L/C to import the goods( exceptions applied in some cases ). Either for Import L/C or export L/C   , technical knowledge on L/C rules and procedure, its possible financing and necessary risk management through insurance coverage is required. Due to mismanagement of those aspects, companies may fall in deep hassle   and incur huge loss in Business.
The export-Import business is one of the hot industries of the new millennium. Export-Import business becomes more and more rewarding, both in terms of profit and personal satisfaction.
But the Export-Import field is not the sole purview of the conglomerate corporate trader, the big guys make up only about few percent of all exporters. Which means that the other major percent of exporters–the lion's share are small outfits like yours will be–when you're new, at least.
Thinking of finding new markets for your products or services? Exporting is one way to increase sales and grow your business. While the rewards of exporting can be great, it is not without risks.
Who can attend?
The business owners or individuals are  interested to start export-import business , graduate business & engineering  students, professional  engaged in  Export, Import, Procurement, Logistics, Supply Chain, Distribution ,Shipping, Freight Forwarding ,Customs, Courier ,Training, International Trade and  many more learning minded people  those are involved in Private Sector, Public sector and Nonprofit organizations (NGOs)
Training Objectives:
Explain the main concept of Incoterms, H.S.Code, L/C Types and Procedure, It's Financing and Insurance Management of International Business (in the case of Import and Export
It aims to provide participants foundational and advanced knowledge on how to tackle, resolve, and manage myriad complex problems and issues that confront Export-Import managers/ Procurement Managers/Commercial Managers/Supply Chain Managers.
The purpose of the course is to recognize the right and complete process and procedure of doing Export-Import Business through L/C or without L/C, understanding the implications of Incoterms ,H.S.Code ,Insurance etc.
Strengthening the Capacity of the professional involves in Export-Import as they can find out GAP and minimize cost
Export the products and services to the right places in right time  and satisfy the customer.
Import the products and services from the right places in right time  and satisfy the customer.
Learning Methodology:
Lecture & discussion
Power Point Presentation
Peer learning
Group work and presentation
Experience sharing
Role play
Buzz and simulation games
Case study exercises
Video clip
Training  Contents :
L/C MANAGEMENT:
EXPORT-IMPORT BUSINESS OVERVIEW THROUGH L/C or WITH OUT L/C
EXPORT-IMPORT BUSINESS MODEL
EXPORT-IMPORT BUSINES PLANNING
IMPORT PROCEDURE EITHER THROUGH PO OR L/C
TYPES OF L/C(SIGHTL/C,DEFFEREDL/C,REVOCAABLE L/C,IRRECVOCABLE L/C ,TRANSFERRABLE L/C etc.)
MASTER L/C
L/C LIMIT
L/C MAGIN
L/C OPENING RULES AND PROCEDURE
SUPPORTING DOCUMENTS FOR L/C OPENING
BACK TO BACK L/C OPENING PROCEDURE
IMPORT PAYMENT  EITHER  THROUGH L/C OR WITH OUT L/C
PROSPECTIVE SUPPLIER LIST AND INFORMATION
IMPORTABLE ITEMS
SELECTION OF PERFECT H.S.CODE
HOW TO COMMUNICATE & NEGOTIATE  WITH SUPPLIER
SUPPLIER & SUPPLIER  COUNTRY  ANALYSIS
PRICE ,PAYMENT & SPECIFICATION  NEGOTIATION
LANDED COST CALCULATION
CONTRACT MANAGEMENT(PI /PURCHASE ORDER / SALES ORDER)
INCOTERMS
APPRORITATE INCOTERM USAGES FOR IMPORT
TASKS, COSTS AND RISKS ARE ASSOCIATED WITH THE BUYER AND THE SELLER.
WHEN THE SELLER'S COSTS AND RISKS ARE THEN TRANSFERRED ONTO THE BUYERS.
INSURANCE MANAGEMENT :
INSURANCE MANAGEMENT
INTERNATIONAL INSURANCE AND LOCAL INSURANCE
INSURANCE COVER NOTE AND POLICY
INSURANCE PREMIUM AND CHARGES
SELECTION OF RIGHT INSURANCE CLAUSES –ICC "A",ICC"B",ICC "C" AND ALLRISK COVERAGE
INSURANCE CLAIM SETTLEMENT PROCEDURE
I L/C CHECK LIST,EXPORT-IMPORT CASE STUDIES,EXERCISES,VEDIO CLIPS
 L/C FINANCING :
IMPORT FINANCING BY BANK
IMPORT BY CASH FUND
IMPORT BY LOAN/GRANT FUND
SUPPLIERS CREDIT
POST IMPORT FINANCING UNDER LTR AND LIM
EXPORT INSURANCE
INTERNATIONAL INSURANCE AND LOCAL INSURANCE
CLAIM SETTLEMENT  PROCEDURE
EXPORT INCENTIVES (CASH INCENTIVES & OTHER BENEFITS)
Notice:
The certificate will be available on the next day of the live sessions.

Videos of this training will be available on our website

7 to 10 working days

after the live session.
We will send an email with all information from " [email protected]". Make sure this email is a safe sender to get all the information.
This online live training will be conducted on

Google Meet or Zoom.

You will find the live training information in Lecture 1.1 Live Training Information, after 12th April 2022.
The Documents will be available here after the live sessions. ­­­­
Instruction to download the documents:

Log in> Profile> All> "Course Name"> Lecture 1.1 Class Materials> Course Name.

Keep eyes on your email (you're registered with) for all kinds of notifications regarding the session.
Knock us on messenger for assistance
Note:
After completing every lesson click on the "

COMPLETE

" button the go to the next lesson.
Must set up your first name, last name, and display name from settings of your profile for your certificate.

[Log in> Profile> Settings> General> Fill up the required fields> Save Changes ]

Do not click on the "

FINISH COURSE

" button without watching all the videos.
After watching all the videos click on the "

FINISH COURSE

"button then the Certificate will be generated.
More details: https://thrivingskill.com/faqs/
Training Instructor: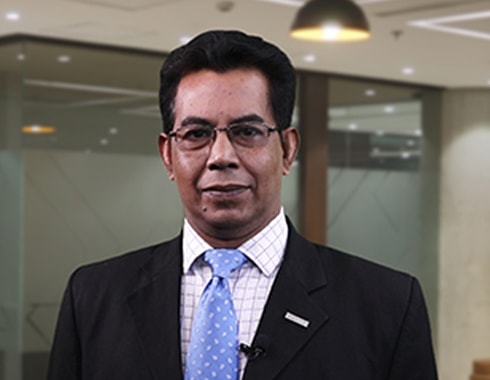 Courses of this Instructor:
Course Features
Lectures

1

Quizzes

0

Duration

05 hours

Language

Bangla

Students

0

Certificate

No

Assessments

Yes
Incoterms, H.S Code, Insurance & LC Management in International Business for Commercial & Supply Chain Professionals