The Art and Science of Presentation Skills
Course Overview:  Effective presentation skill is a very useful tool for any professional in any industry. It is an important aspect of business, sales, and selling, training, teaching, and lecturing. Developing the confidence and capability to deliver good presentations, and to stand up in front of an audience and speak well, are also extremely helpful competencies for self-development, business, and social situations. The presentation skill is art. At the same time, it can be a science too. There are some interesting tools for anyone to remember and practice to continuously improve the presentation or public speaking skills. The book, based …
Course Overview: 
Effective presentation skill is a very useful tool for any professional in any industry. It is an important aspect of business, sales, and selling, training, teaching, and lecturing. Developing the confidence and capability to deliver good presentations, and to stand up in front of an audience and speak well, are also extremely helpful competencies for self-development, business, and social situations.
The presentation skill is art. At the same time, it can be a science too. There are some interesting tools for anyone to remember and practice to continuously improve the presentation or public speaking skills.
The book, based on which the program is designed, consists of both tools of art and science. This exclusive webinar will equip each participant with excellent presentation skills. They will be able to present their ideas/assigned tasks with a desirable standard. This session based on the book "The Art and Science of Presentation Skills" by Prof. Moinuddin Chowdhury will certainly prepare them to face the real world with enough preparation from the perspective of strategic communication.
 Learning Objectives:
At the end of this workshop participants will be able:
to understand the importance of nonverbal communication
to develop the ability to organize information for presentation
to know how to deal with the visual aids and other hardware during the presentation
to master the art of building rapport
to attract and hold an audience's attention during meetings and presentations
Course Content:
OMG as a tool to structure any presentation
PEG as a tool to prepare the mindset before appearing on stage
Use of Icebreakers, Energizers and games in presentation
Basic storytelling structure
The global standard rule for the use of PowerPoint
Note:
All participants will get a digital certificate from Thriving Skills Limited.
Must set up your first name, last name, and display name from settings of your profile for your certificate.
Don't click on the "

FINISH COURSE

" button.
If you click on the "FINISH COURSE" button then the webinar will be finished and a Certificate will be generated.
Facilitator: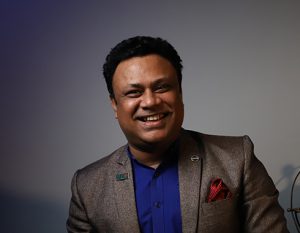 Course of This Instructor: