Sales Management & Leadership Excellence
Training outline Many people find themselves in the role of sales manager as the result of a promotion to recognize their top performance as a seller. However, the skills that make for a successful seller and a successful sales manager are quite different. Even with seasoned Sales Managers, a strong foundation in skills is required to effectively manage a sales team due to constant changes in the business environment. In fact, managing a sales team is one of the more difficult jobs in any company. In the Sales Management and Leadership Excellence program, participants learn how to direct the people …
Training outline
Many people find themselves in the role of sales manager as the result of a promotion to recognize their top performance as a seller. However, the skills that make for a successful seller and a successful sales manager are quite different. Even with seasoned Sales Managers, a strong foundation in skills is required to effectively manage a sales team due to constant changes in the business environment.
In fact, managing a sales team is one of the more difficult jobs in any company. In the Sales Management and Leadership Excellence program, participants learn how to direct the people on their teams, keep them motivated, and hold them accountable so they not only meet, but also consistently exceed, sales targets.
Learning Objectives
– Get the best results possible from your sales teams
– Keep sales teams accountable for results
– Choose the right sales management activities to make the greatest difference
– Get stronger, more accurate opportunity assessments, pipelines, and account plans
– Develop confident sales managers who follow a system that helps them succeed
– Make the transition from seller to sales manager with greater success
– Be effective at onboarding new sellers
– Inspire seller action and execution
– Avoid the most common mistakes sales managers make
– Unleash the motivation, energy, and passion of your sales teams through your sales managers
Who Will Benefit?
– Sales supervisors (Field Manager, Area Sales Manager, Territory Manager)
– Senior Sales Officer who are about to assume sales management responsibilities.
– Executives of the product/brand management department would like to understand the sales management responsibilities.
Course Outline
Session 1: Introduction & Basic Skills
Session 2: Self-Leadership
Session 3: Elements of Excellence
Session 4: Coaching and Development
Session 5: Taking Action
Note:
After completing every lesson click on the "

COMPLETE

" button the go to the next lesson.
Must set up your first name, last name, and display name from settings of your profile for your certificate.

[Log in> Profile> Settings> General> Fill up the required fields> Save Changes ]

Do not click on the "

FINISH COURSE

" button without watching all the videos.
After watching all the videos click on the "

FINISH COURSE

"button then the Certificate will be generated.
More details: https://thrivingskill.com/faqs/
Training Instructor: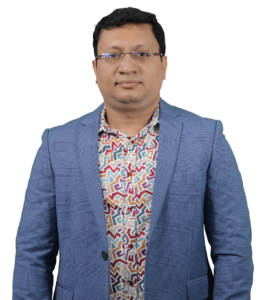 Courses of this Instructor: