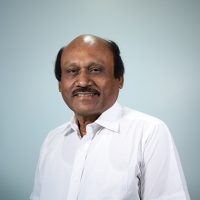 K.M. Ali
Lead Consultant of Space
K.M. Ali started his career in British American Tobacco Company and worked there for more than a decade. Later, He also worked in a couple of reputed Bangladeshi Groups in key positions (COO, CEO & Group CEO). He obtained his Master of Arts Degree in English from Rajshahi University and maintained academic excellence by securing top position althrough.
His areas of specializations are F M C G ( Foods), Building Materials, Consumer Durables (Consumer Electronics + Furniture), Power, Construction, Dredging, Cables, Logistics, Adhesives, Agro, Real Estate and Exports of Packaged Foods across the world. Currently, he is serving as the Lead Consultant of Space Consultancy Services which is just making its way into the market.
Over a period of three decades plus, Ali has to his credit a track record of establishing highly successful brands and organizational turn-around and transformation stories. A strong believer in 'People and Strategy Power,' Ali's expertise revolves around cross-domain insights and leadership focus which he believes, separate the Champions from the Losers.
Ali uses his unique 'Deep Smart' approach that intuitively and instantaneously works out a brilliant solution to any persisting business issues regardless of its depth and levels of complications. Since he has gone through almost all types of business situations in his long career span, his literary background and for that matter an artistic bend of mind lends him an additional power to get an x-ray view of problems for spot on solutions.
K.M. Ali is a reputed Resource Person for Learning and Management Development Interventions. He has provided numerous training courses to professionals of both Bangladeshi and Multinational companies in 5 Star Environment. Key subjects covered in the training are Leadership in multiple formats (i.e. General, Special and Series), Change Management, Sales (Basic Sales Management, Corporate Sales Management & Strategic Sales Management), Brand Management, Communications, Team Building, Customer Service etc. Unlike an academic, he does not just unload ideas; rather he relates the same with real life episodes, metaphors and stories that turn the learning into a delightful and participatory conversation between the trainer and the participants.
K.M.Ali has obtained Copy Right from Bangladesh Government for Marilyn Monroe Leadership Tower Series, a Leadership Training Module that includes 100 Half Day Long Training Sessions covering the entire Spectrum of Leadership. He is also associated with the following organizations:
Member:                                             Sheikh Jamal Dhanmondi Club, Dhaka
Executive Committee Member:         Institute of Management Consultants, Bangladesh (An
Affiliate of IMCIC (The Global Organization)
Vice President:                                  English Department Alumni Association, Rajshahi University