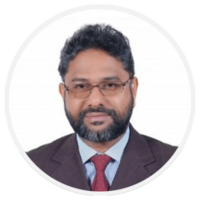 Dr. Farid Sobhani
Professor, United International University
Dr. Farid Sobhani is a Professor of Accounting and HRM in the School of Business & Economics at United International University, Dhaka. He is also a Visiting Professor, ARI-Universiti Teknologi Mara (UiTM), Malaysia. He is the Secretary-General, Federation of Bangladesh Human Resource Organizations, Dhaka and Founding Chairman, Bangladesh Society for Human Resource Management (BSHRM), Chittagong. Dr. Sobhani is the Research Coordinator for Southeast Asia at the Australian Academy of Business Leadership, Sydney.
Dr. Sobhani did his Ph.D. in Corporate Governance from Universiti Sains Malaysia, Malaysia. He did the Master's in Management from the University of Antwerp, Belgium after completing BBA and MBA in Accounting from the University of Chittagong, Chittagong.
Dr. Sobhani served as Professor & Dean at Daffodil International University, Dhaka, and International Islamic University Chittagong, Chittagong. He has more than 100 research articles in local and international journals. He attended many international conferences in Asia, Europe, Australia, and the United States and got the best paper awards in a number of conferences. He facilitated many training sessions in the field of accounting and HRM in local and international arenas.