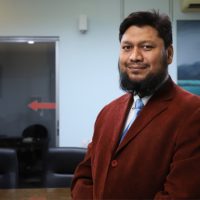 RETD LT CDR FOISAL MEHDI
Managing Director & CEO, ITC International Ltd.
An accomplished director with an excellent operational background coupled with proven ability across entire business processes. A strategic thinker with 20+ years of successful Management and Leadership know-how recognized for 'making seemingly impossible situations work successfully'. Expertise includes:
 IRCA (UK) Certified on ISO 9001 Quality Standard and 18001 Occupational Health & Safety Standard.
 DU Accredited on Sustainable Development and Certified on ISO 14001 Environmental Standard.
 Disaster Management & Fire Fighting Specialist from UK.
 IMO (UN) endorsed on Port Facility Security Management.
 Excellent oral and written communication skills with an IELTS score of 7.5.
 Expert in Policy development, SOP formulation and subsequent implementation.
 More than 10 years proven track as Motivational Leader & Trainer at National Level.