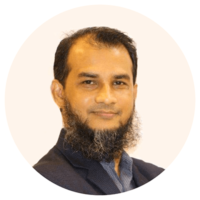 H M Mainuddin Ahammed
Experienced Finance & Tax Professional
#Service track:
• C-Suite leader with experiences in different unique sectors – financial institution, healthcare, tea manufacturing, national NGO, power generation, energy-saving bulbs, the first certified boarding school in Bangladesh (IB Curriculum), textiles and Apparel, Chartered Accountants firm.
• Currently the CEO at LSF & Co., a Cost & Management Accountants Firm, working for Business Process Development & Improvement, Management Audit, Tax-VAT Management, and ERP Implementation. We have a partnership with an SAP Silver Partner based in New Delhi.
#Leadership Track:
LinkedIn influencer & Social Media Analytics
Part-time university faculty
Career Mentor
Spoke to almost all top 10 universities in Bangladesh
Regularly invited as a Keynote speaker, Guest speaker, and International Summit speaker
Moderated/ facilitated over 200 soft skills, professional development, and technical sessions
#My Volunteer Experience
A networking professional having memberships with a dozen of business, social and professional forums both at home and abroad.