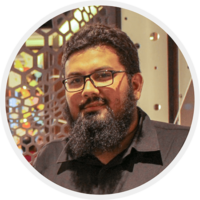 Sharier Mahumud Tushar
HR Consultant
SHARIER is Grey Group's Country Human Resources Director for APAC Market's
Bangladesh cluster and also serving as member of the Executive Committee
member of Grey country leadership team. A highly effective and commercially
astute Leadership & Management Consultant with a proven track record of delivery
solutions across Organization Development, Talent Management, Succession
Planning, Leadership Development, Coaching and full range of modern Strategic HR
Disciplines.
Here he is responsible for Grey's global HR strategy, which is all about empowering
people to enable business success. In this role he delivers world-class programs to
create a positive Grey employee experience and build a culture where associates
can be themselves, make a difference and grow within the organization.
He closely working with the Grey's APAC HR team overseeing end to end HR
process with talent engagement and development, talent reviews, training &
capability development, compensation and benefits, talent acquisitions and
retentions. Previously also worked for Nielsen South Asia, Beximco Pharma and
Telenor Group under different leadership roles at different markets.
He is widely known for commercial and practical HR solutions, as well as academic
rigor, including teaching at the University level. He is a certified HR professional by
United Nations, ILO, Mercer & Willis Towers Watson and also recognized career
coach & mentor for professionals.