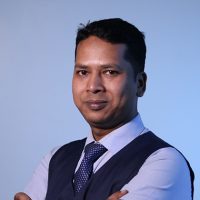 Karimul Arafat
Motivator, Councillor & Trainer
Mr. Karimul Arafat has more than 9 years of experience in Marketing, Sales, Customer Relation Management, Branding, and Market Analysis and has done his specialization in Marketing, especially in Strategy, Motivation, and Team Building, Product Development, CRM & Organizational Development.
He has worked for OTOBI Limited & Partex Star Group (Unit: PFIL) the Local prominent Furniture brand in Customer mind. Now he is responsible to excel the brand image of Bashundhara Tissue Paper Products with innovative market ideas.
Mr. Karimul achieved several academic & professional degrees in the field of Marketing and Strategy formulation during the time. He achieved degrees such as Leadership Certificate in Managerial Communication (IBA, University of Dhaka), Competitive Business Strategy & innovation (IBA, University of Dhaka), Certificate in Brand Management (Bangladesh institute of Management), Marketing Competencies for Managers (IBA, University of Dhaka), MBA in Supply Chain & BBA in Marketing with excellent co-curricular activities. He is a Good Debater and worked with National Debate Federation- Bangladesh (NDF-BD) more than 5 years.
He is committed to serve the Human Being, dynamic & young future prominent Marketer, Change Maker in the corporate arena of Bangladesh.
His mission to become a Business Strategy Maker, Change Maker, Motivational Speaker to empowering people and helping in business development worldwide.